Creating a Path to Destiny: Women Trailblazers Initiate the Necessary Journey
As the new year evolves with ongoing challenges of the pandemic, various positive adaptions have occurred. There has been a newly elected multi-racial vice president which has enlightened the realm of opportunities for young girls across the United States. Women have excelled in society and the workplace including:  scientific contributions to the Coronavirus vaccines, newly appointed officials and those placed in sports roles. Kinetic Potential Cares wanted to highlight these events during Black History Month by showcasing several Women Trailblazers who have excelled in the recent months.
On February 4th, KP Cares interviewed the Washington Football team's newly appointed, Assistant Running Back coach, Jennifer King.  Coach King took her passion of football and transpired it into a career. She has loved football since her youth and was often seen playing the sport in her yard or attending games with her family.
King reflected on her journey to coaching in the NFL by stating that it wasn't an easy road, it involved determination and handwork Although the road included playing professional women's football, college coaching and pro football internships, King knew that those steps had to be endured to achieve her goals. There were obstacles that occurred throughout the process however, King never stated those, she focused more on her love for football and the process to become better. She felt that throughout her endeavors, there were not any times when she experienced difficulties from male colleagues and players as they accepted her for the talents that were exemplified.
King's humble demeanor and compassionate desire to help others are components of what she utilizes when coaching her team. She is anticipating an exciting future with the Washington Football team and wants to encourage future trailblazers by encouraging them to keep pursuing their dreams. King stated that one must 'be strong, be confident and move forward, even when others may not believe in what can be achieved". King continued by adding that when obstacles make you fall, one must fall forward.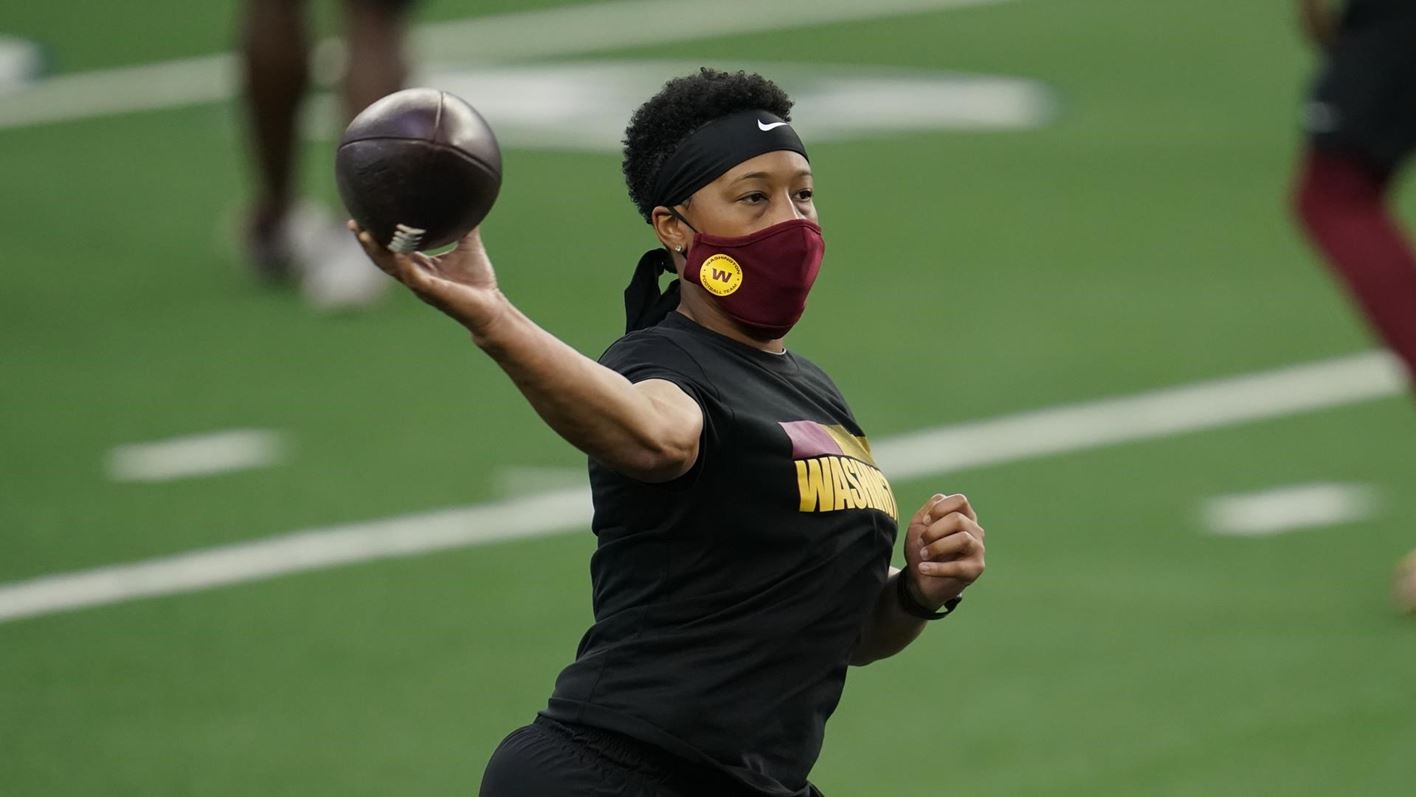 Kinetic Potential offers the support necessary for those moments when one faces obstacles or reaches a point that seems like no progression can be made. The KP Cares initiative focuses on assisting youth with establishing goals and achieving them by instilling the values necessary to produce new trailblazers by having youth believe that 'the possibilities are boundless when you have innovation at work".